Radio Caroline – Keeping the faith! Not a lot of people know that, to coin a phrase, but Radio Caroline is still alive and well in the 21st Century. 1960s/70s fans of offshore 'Pirate' radio (many of whom will have attended Ealing Mead County School at that time) will instantly remember the hugely popular radio station that, as with a lot of that era's innovations, broke the stuffy backwards looking mould.
On Easter Sunday 1964, with their words having been pre-recorded since they were too nervous to broadcast live, Chris Moore and the then unknown actor Simon Dee announced 'This is Radio Caroline on 199, your all day music station.' Then the Rolling Stones record 'Not Fade Away' was played and dedicated to station owner Ronan O'Rahilly. Caroline was on the air! The monopolies of BBC Radio and Radio Luxembourg were shattered and stuffy old fashioned UK radio was changed forever.
Maybe they did, or maybe they did not realise the significance of the title of their initial choice of record. Caroline certainly did not entirely fade away and continues today with the same ethos to provide its listeners with the kind of music they love to hear.
Radio Caroline now has several channels for the listener to choose from including Internet stream feeds from its website or iTunes, or their own dedicated smartphone app / other radio streaming apps, selected DAB multiplex and, at long last after 53 years, their own officially sanctioned land-based transmitter site in Suffolk UK broadcasting on 648kHz AM plus an ad hoc arrangement with Manx Radio on the Isle of Man. For full details click on the Radio Caroline banner below to visit their site.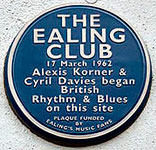 The Ealing Club. The opening of the Ealing Blues Club by Alexis Korner and Cyril Davies in March 1962, is generally regarded as the pivotal moment when British Blues developed its own identity.
The Ealing Club Website
The Ealing Club Blue Plaque Unveiled
Suburban Steps To Rockland – The Story of The Ealing Club official trailer
Ealing, the centre of the rock universe!
Ealing was as a popular venue for some of the greatest names in British rock music history. However, there are some important names missing from popular reviews of those days such as my old mate Art Wood who had his own band in the early '60s and Ted Wood, both talented musician brothers of Ronnie Wood. Art's band, The Artwoods were regular performers at The Ealing Club. A BBC special with Art Wood can be found here on YouTube. All three Wood brothers studied art at what was then Ealing Technical College & School of Art on St Mary's Road, Ealing – now the Ealing campus of the University of West London. Other famous students of the college were Freddie Mercury and Pete Townshend. (Contribution supplied by former Ealing Mead pupil, Keith Littlejohns)
How Are Vinyl Records Made? Since the recent revival of interest in vinyl and with sales increasing year on year, EMI's old record production facility in Hayes is keeping busy under the ownership of 'The Vinyl Factory'. There is a good newspaper article associated with this story.
Old Ealing on film 1901, From Nat West Bank (original town hall building) to Ealing Common. Buildings are sometimes obscured by trees, but this is a feature of what gave Ealing its title of the "Queen of suburbs". Old Ealing 1901
Forum Cinema, Ealing Broadway. A British Pathe video showing the construction of the Forum Cinema in Ealing Broadway. Forum Cinema Construction
Forum Cinema, Ealing Broadway. A nostalgic look back in still pictures of the Forum Cinema in Ealing Broadway from its opening in 1934 to closure in 2008 before being demolished. Forum Cinema
Carry on Ealing. A look back at scenes from old Ealing (using Carry On film footage) and how they compare now. (You may need to hit the pause button every now and then to read the captioned images before they disappear). Carry on Ealing
Ealing Studios. Excellent mini documentary about Ealing Studios. Ealing Studios
Python's climb Uxbridge Road in Ealing. Micheal Palin looks back at Graham Chapmans Assent of the South Ealing Road, London. Monty Python 1969. Python's Climb of Uxbridge Road
Ealing Rail Crash, December 1973. 650 passengers were aboard the 17:18 express train from Paddington to Oxford. A serious derailment took place just west of Longfield Road bridge, Ealing Broadway when the train was travelling at maximum speed of 70mph resulting in 10 people being killed and 94 injured.  Ealing Rail Crash, December 1973
West Ealing Derailment 1989. Railway locomotive 50025 Invincible derailed at West Ealing in August 1989. Cecil Parkinson the then Minister for Transport gives his thoughts.  Video1 Video2
Non-Mainline Rail Lines Around Ealing. Almost an hours worth of train movements on local passenger, shunting and freight lines around Ealing. Patience is required as some clips can seem as if they have frozen.  Video
Fred Housego – History On Your Doorstep (1980) – Ealing. Fred Housego's History On Your Doorstep documentary series visits 1980s Ealing.  History On Your Doorstep – Ealing
John Sergeant, the well known broadcaster talks about living in Pitshanger Lane. John Sergeant
Fred Perry. An extract from the BBC Radio 4 documentary 'The Life of Fred Perry' describing the arrival of Britain's most famous tennis player in Pitshanger Lane, Brentham. Fred Perry
Ted Saunders. Traditional fish monger in Pitshanger Lane. Ted Saunders
Streets for People. Controversial proposal for changing some aspects of Pitshanger Lane. Streets for People
North Ealing School Fair 2009 (Pitshanger Lane). North Ealing School Fair 2009
Party in the Park. July 28th 2009, Pitshanger Park. Party in The Park
Rock Choir. Appearance at Pitshanger Lane. Great vocals. Rock Choir offers children, teenagers and adults the opportunity to sing pop, gospel and Motown. Rock Choir
Emiliana Torrini. The Icelandic singer's music video was partly shot on the streets of the Brentham Garden Suburb and Pitshanger Lane area. Nice song, sweet vocals and the video has some interesting effects as well.  Emiliana